Fishing reports and conditions: 11/25/22 "Black Friday sales going on today and Shop Small Businesses happening tomorrow! Come in and see what's on sale!" Hope everyone had a nice day yesterday, Thanksgiving at my sisters was fun, but most of all the Buffalo Bill's won on Thanksgiving. Rivers are in good shape but we are getting rain over the weekend, 1/4" this morning and a 1/2" Sunday, winds will be busy over the weekend also, but Saturday could be a 50 degree day. Fishing this time of the year is nymphs and streamers, there could be a small window of dry fly fishing at the peak of the day. Tailwaters also run warmer near the source and that's where you may be more successful. Jeannie and I and the staff of Trout Town Flies want to thank everyone for your Friendship and Patronage for this past year. There is so much joy when I see new people entering the water for the first time to seeing my old friends come back to waive the stick. Without all of you we would not exist. Now it's time to focus on 2023 and tye flies for the winter, some work on my own home and a little football on the boob tube. We will be open Thursday to Sunday until the Holiday's so we will still be around if you need something for your flybox. If I don't see you till the Spring be safe and Thank you! Lost and Found: Lost- Black Okuma Metal flybox 6" X 3"- Ben Grays pool, went deep six to bottom, Call Marc 646-831-9031 NYC Reservoir Levels: As Of 10/1/22 Schoharie: 50.0 % Cannonsville: 44.1 % Perpacton: 72.4 % Askokan: 65.6 % Neversink: 72.3% Roundout: 95.4 % Croton: 90.3 % Current: 70.3 % Normal: 77.4 %
November Hatches:
Olives - #22-26, variety of colors, midges, streamers and nymphs. "October 16 through March 31 2023", Artificial Lure only, Catch and Release in NYS streams. "NO Live Bait"!





November 25, 2022 6:30 AM,
Rivers / Streams
Flow
Temp
Condition
Beaverkill
375 37.4 wade Willowemoc 93 37.5 wade East Branch – Harvard 167 38.4 wade
East Branch – Downsville 82 42.4 wade
West Branch – Stilesville 156 45.1 wade
West Branch - Hale Eddy 327 40.6 wade Mainstem – Lordsville 1310 36.8 wade
Neversink – Bridgeville 167 37.5 wade
Esopus – Coldbrook
357
40.2 wade ** if for some reason there is no current River report, the Host is down once up I will place a report, or throw the computer in the Garbage.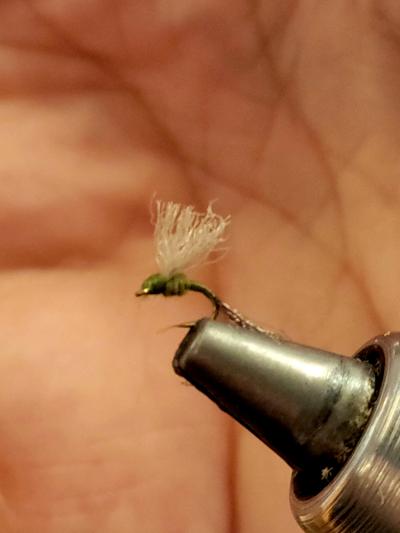 Fly of the Week: Blue wing olive Hook: SE 1, LT scud, #20-24 Thread: 12/0 Olive Shuck: Brown Z-lon or Antron Body: Olive biot or Olive dubbing Wing: Light Dun Synthetic or CDC Last fly of the year, Olives will be on the Water into November. Tied them in all small hook sizes.